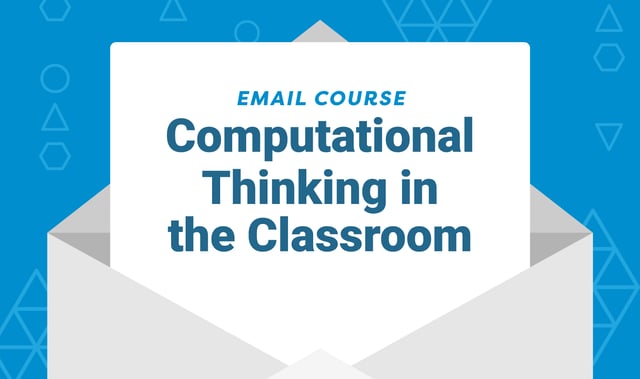 The future of work is here. Workplaces are increasingly collaborative and digital with projects requiring problem solving, critical thinking, creativity, and design.
Computational thinking in the classroom will transform how your students learn and pave the way for future readiness. Computational thinking teaches students to think like computers to gather and analyze data, create problem-solving processes, and design digital solutions.
With computational thinking, students learn to think critically and creatively, to practice persistence and a growth mindset, and to partner with technology – it's about problem solving, social and emotional learning, and digital literacy.
Course Takeaways
This seven-day professional development course will get you started teaching computational thinking in any subject and grade within less than a week.
Here's what you can expect:
Daily emails for one week that break down a key concept in computational thinking.
Reflection questions and prompts to address this topic with yourself, your peers, and your students.
Real-life examples of these key concepts in action.
Standards-aligned projects and activities to launch this subject in your curriculum.
Course Curriculum
Enduring Understanding
Computational think is 21st-century problem solving strategy that's aligned with the future of work.
---
Essential Question
How can computational thinking be authentically integrated in curriculum to promote social and emotional learning, critical thinking, and digital literacy?
---
Definitions
Computational thinking
Decomposition
Pattern recognition
Abstraction
Algorithmic thinking
---
Skills
Breaking down problems into smaller ones
Gathering relevant information and data needed to address each
Organizing and processing this data and looking for patterns to understand it
Generalizing and representing patterns across the subproblems
Analyzing the abstracted information and producing an output to the problem
Relating this process to similar problems and systematizing it in an algorithm
Testing and refining the algorithm for accuracy and expediency
---
Learning Plan
Lesson 1: Computational Thinking Defined
Lesson 2: Why Computational Thinking Matters
Lesson 3: Decomposition
Lesson 4: Pattern Recognition
Lesson 5: Abstraction
Lesson 6: Algorithmic Thinking
Lesson 7: All Together Now
---
Resources